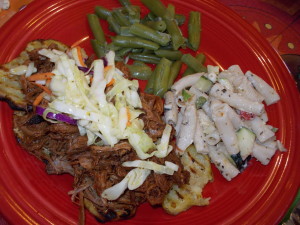 Birthday meal menu ~ Gluten-free style!
Bbq'd Pulled Pork
Grilled Potato Slices drizzled with olive oil and seasoned well

Green Beans
Pasta Salad with Cucumbers, Peppers & Feta Cheese
South Carolina Cole Slaw
Apple Pie
Chocolate Hazelnut Torte with a Chocolate Ganache
Fruit Salad
Everything was delicious but I'm sure you are going to want the recipe for the Pulled Pork!  It was delicious!
Slow-cooked Pulled Pork
2 medium yellow onions, thinly sliced
4 medium garlic cloves, thinly sliced
1 cup chicken stock or low-sodium chicken broth
1 tablespoon packed dark brown sugar
1 tablespoon chili powder
1 tablespoon kosher salt, plus more as needed
1/2 teaspoon ground cumin
1/4 teaspoon ground cinnamon
1 (4-1/2- to 5-pound) boneless or bone-in pork shoulder (also known as pork butt), twine or netting removed
2 cups barbecue sauce (optional)
INSTRUCTIONS
Place the onions and garlic in an even layer in the slow cooker and pour in the stock or broth. Combine the sugar, chili powder, measured salt, cumin, and cinnamon in a small bowl. Pat the pork dry with paper towels. Rub the spice mixture all over the pork and place the meat on top of the onions and garlic. Cover and cook until the pork is fork tender, about 6 to 8 hours on high or 8 to 10 hours on low.
Turn off the slow cooker and remove the pork to a cutting board. Set a fine-mesh strainer over a medium heatproof bowl. Pour the onion mixture from the slow cooker through the strainer and return the solids to the slow cooker. Set the strained liquid aside.
If the pork has a bone, remove and discard it. Using 2 forks, shred the meat into bite-sized pieces, discarding any large pieces of fat. Return the shredded meat to the slow cooker, add the barbecue sauce.
I cooked the pork on Saturday and then refrigerated it till Sunday morning.  I put the pork and  the barbeque sauce in the crock pot on low and it was perfect when we came home from church.
Cole Slaw recipe from Southern Living
1/2 head thinly sliced cabbage (about 1 lb.) I used shredded cabbage
1 cup grated carrot
1/2 cup apple cider vinegar
1/4 cup sugar
1/4 cup olive oil
2 tablespoons Dijon mustard
2 teaspoons dry mustard
1 teaspoon celery seeds
1 teaspoon kosher salt
1/2 teaspoon freshly ground black pepper
Preparation
Place cabbage and carrot in a bowl. Whisk together vinegar, sugar, oil, Dijon mustard, dry mustard, celery seeds, kosher salt, and freshly ground black pepper in a saucepan until sugar dissolves; bring to a boil over medium-high heat. Pour over cabbage mixture; toss to coat. Serve immediately.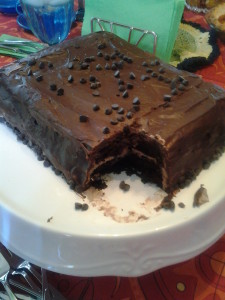 Chocolate Hazelnut Torte with Chocolate Ganache
2/3 c quinoa – uncooked
1 1/3 cups of water
1/3 cup of milk
4 large eggs
1 tsp. vanilla extract
3/4 C of melted butter, cooled
1 1/2 cups of sugar
1 c cocoa powder
1 1/2 tsp baking powder
1/2 tsp baking soda
First things first, cook your quinoa in the water.
Preheat your oven to 350.After your quinoa is cooked and cooled. Add the eggs, milk and vanilla to a blender (or food processor) and mix. This is a job that is definitely for a heavy duty blender, otherwise everything might not smooth out and you'll be left with crunchy cake. I use a Ninja Blender. –
Add the cooked quinoa and melted butter and mix some more.Then, add all of the dry ingredients and mix even more. Make sure you mix it good enough that there aren't any whole quinoas left.
Pour the batter into a greased 9×13 cake pan (or I used a 9" spring form pan) and bake for 45 minutes.
See more at: http://www.loveandlaundry.com
Hazelnut Buttercream
3/4 cup melted butter
1 – 1/2 c organic powdered sugar, sifted
1/2 T warm water
2 T  So Delicious Dairy Free coconut milk hazelnut coffee creamer
1/2 t vanilla
To make buttercream, beat the butter bowl of standing mixer.    Add the water, sifted powdered sugar, coffee creamer and vanilla.  Beat for an additional 2 minutes. Beat the buttercream until light and fluffy.
Chocolate Ganache
Place one layer of the cooled cake on serving platter or cake stand.  Top with half of the buttercream and smooth out to the edges.   Top with the other cake layer and place in refrigerator for 30 minutes.  While it's chilling, make the ganache.  Mix chocolate chips and coffee creamer in small bowl.  Heat in a saucepan,  whisk until chocolate chips are completely melted and ganache is smooth.
Pour ganache over the top of the chilled cake.  With an offset spatula, immediately spread the ganache evenly on the top, then the sides of cake (ganache sets fairly quickly).  Place cake back in the refrigerator for another 30 minutes or overnight.  Get out to warm up a half an hour before serving.