Some special birthday girl will be getting some super cute dishcloths this weekend!  Why?  Because I was in the dishcloth making mood.
The 3 I made were from www.ravelry.com
They are called, "The Soft Waves – Kitchen Lovelies"  (pictured on the bottom right), "The Sunrise Dishcloth" (in the middle), and my favorite "The Moon Flower Dishcloth" (bottom left).  They are all made from the same skein, a Lily's Sugar 'n Cream stripes called Natural Stripes.
All the patterns are free on Ravelry, I will include the "Sunrise" cloth on here, very easy!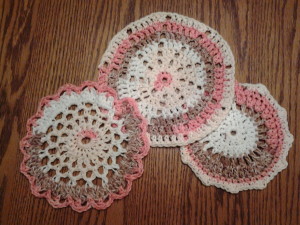 Sunrise Washcloth
Lion Brand® Kitchen Cotton
GAUGE:
Exact gauge is not essential to this project.
TECHNIQUE EXPLANATION
This design begins by working an adjustable ring to create a neat, closed center on the finished Washcloth.
Adjustable ring method: Wrap yarn around index finger. Insert hook into ring on finger, yarn over and draw up a loop. Carefully slip ring from finger and work the stitches of Rnd 1 (in pattern, below) into the ring. When Rnd 1 is complete gently, but firmly, pull tail to close up the ring.
Washcloth is worked in continuous rnds. Do NOT join and do NOT turn at the end of rnds.
WASHCLOTH
Following the Technique Explanation above, make an adjustable ring.
Rnd 1: Ch 1. Work 9 sc in ring; do not join. Place marker to indicate beginning of rnd. Move marker up as each rnd is completed.
Rnd 2: Work 2 hdc in each sc around – 18 hdc at the end of this rnd.
Rnd 3: (2 dc in next hdc, ch 1, sk next hdc) 9 times – 18 dc and 9 ch-1 sps at end of this rnd.
Rnds 4-8: (2 dc in next dc, dc in each dc to next ch-1 sp, ch 1, sk ch-1 sp) 9 times.
Rnd 9: (2 dc in next dc, dc in next 6 dc, ch 1, sk next ch-1 sp) 5 times, sl st in each st to end of rnd.
Fasten off.FINISHING
Weave in ends.
Happy Crocheting!