A new Sunday night supper has begun…baked granola!  I put frozen strawberries and dried cherries on top and the result was so good!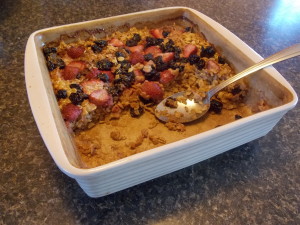 Baked Granola
2 cups organic rolled oats                            1 large egg
1/3 cup brown sugar                                    2 cups raw milk
1/2 t salt                                                        3 T melted butter
1 t cinnamon                                                 2 t vanilla
1 t baking powder                                        1/2 cup dried sour cherries
1 cup sliced strawberries (fresh or frozen)     1/2 cup chopped nuts
Heat oven to 375 degrees.  Generously spray 8 x 8 pan with coconut oil cooking spray.  In a large bowl, mix together the oats, sugar, baking powder, cinnamon, nuts, & salt.  Add to prepared baking dish.  Layer the strawberries and cherries (or whatever fruit you use).  In another large bowl, or 4 cup glass measuring cup, whisk together the milk, egg, butter and vanilla.  Then, pour over oats and fruit.  Gently shake the dish to help the mixture cover all the oats.  Bake for 30 – 40 min.
Or it can be prepared the night before and refrigerate then put in the oven in the morning.  I like to bring the dish up to temperature in the oven as it warms up.
Enjoy!
The question about oats being gluten free depends on which ones your asking about.  At Bob's Red Mill, they test the oats they get in thoroughly before they package them.
Most non-contaminated, pure oats are gluten-free. They are safe for most people with gluten-intolerance.
The main problem with oats in gluten-free eating is contamination. Most commercial oats are processed in facilities that also process wheat, barley, and rye.  taken from thekitchn.com
Each farm delivery we receive is sampled hundreds of times and tested with an R5 ELISA gluten test to ensure the absence of gluten. Advanced color-sorting removes undetected impurities. Roasting enhances that wholesome robust flavor you expect. Finally, the oats are packaged in our 100% gluten free facility and tested for gluten again to ensure their purity.

We use the Bob's Red Mill Organic Rolled Oats since oats are gluten free, and trust the manufacturer.  Eat oats because…
Eating oats helps lower LDL "bad" cholesterol and may help reduce the risk of heart disease. Oats help you feel fuller longer, which helps control your weight. Oatmeal and oats may help lower blood pressure. Oats may help reduce your risk of type 2 diabetes, since their soluble fiber helps control blood sugar. Oats are high in beta-glucans, a kind of starch that stimulates the immune system. Oats are higher in protein and healthy fats, and lower in carbohydrates than most other whole grains. They contain more soluble fiber than any other grain.