We love eating granola at our house!  It goes well with yogurt as a mid afternoon snack or with milk in the morning, or even right out of the container as a quick pick me up.  However, I hate making it in the oven, always tossing it, some falling on the bottom of the oven or floor…then one day, my husband sent me a link for crock pot granola!  I was intrigued!  I made it that afternoon and it turned out great!  This is from http://www.barefeetinthekitchen.com/.  She has alot of other great recipes also.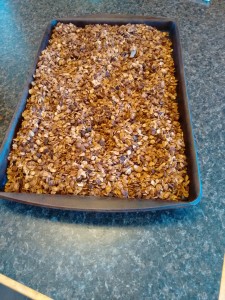 Homemade Slow Cooker Granola
recipe adapted from Dine and Dish
Yield: About 7 cups or (15) 1/2 cup servings
5 cups old fashioned rolled oats
1/2 cup slivered almonds ( I used walnuts)
1/4 teaspoon kosher salt
2/3 honey
1/3 cup coconut oil or butter *
1/2 cup chunky peanut butter
2 teaspoons cinnamon
1 tablespoon vanilla
1 cup raisins or craisins, I used a combination of both
Lightly grease the crock-pot with a teaspoon or so of oil. Add the oats, almonds and salt. In a large measuring cup or small glass bowl, combine the honey, oil, peanut butter, cinnamon and vanilla. Microwave for a minute, stir and microwave an additional 30 seconds as needed, to melt everything and allow it to combine smoothly. (In lieu of a microwave, this can easily be done in a small saucepan over medium heat, stirring frequently.)
Pour the liquids over the oats in the crockpot and stir well to thoroughly coat. Place the lid on the crockpot, leaving it slightly vented. Cook on HIGH for about 2 hours, stirring every 30 minutes. Stir in the dried fruit right at the end. Spread the granola across a large baking sheet and let it cool before transferring to an airtight container. Enjoy!