Our newest breakfast idea is pre-baked oatmeal cups.  They are good for a healthy snack or lunch on the go.   It's basically your baked oatmeal recipe in a cupcake pan.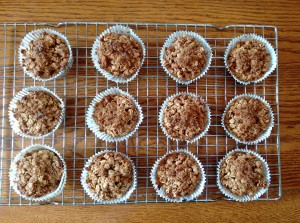 Molasses Oatmeal Cups
2 cups organic rolled oats
1/2 chopped walnuts
1/3 cup maple syrup
2 T coconut oil
1/2 cup applesauce
1 T blackstrap molasses
1 t cinnamon
1 t ginger
2 t vanilla
2 T grassfed raw milk
1 egg
Preheat the oven to 350.  Mix all the dry ingredients in one bowl.  Mix wet in another.  Add wet to dry and mix well.  Spoon batter into lined cupcake pans and press down well with the back of a spoon.  Bake in the oven for 15-17 minutes.  Wait until they are completely cooled before removing them from the pans.