Many of you have asked where my recipe is on my website…it's kind of hiding in the post with the Pulled Pork, so I have made it's own separate post along with some updated pictures.  The first Chocolate Quinoa cake I made was for my sister-in-law's birthday, it was made with Hazelnut Buttercream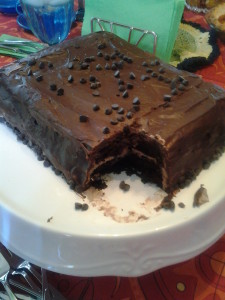 Hazelnut Buttercream
3/4 cup melted butter
1 – 1/2 c organic powdered sugar, sifted
1/2 T warm water
2 T  So Delicious Dairy Free coconut milk hazelnut coffee creamer
1/2 t vanilla
To make buttercream, beat the butter bowl of standing mixer.    Add the water, sifted powdered sugar, coffee creamer and vanilla.  Beat for an additional 2 minutes. Beat the buttercream until light and fluffy.
Peanut Butter Buttercream
The next cake, for my brother-in-law's birthday, was with a Peanut Butter filling.  I used french vanilla coconut milk creamer instead of the hazelnut and added 1/4 c creamy peanut butter to the filling and blended well.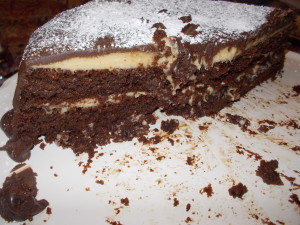 Then for my daughter and her friend's combined birthday I made another quinoa cake with the hazelnut filling because it is so good!
Peanut Butter/Marshmallow Buttercream
The most recent cake was a Peanut Butter Marshmallow Chocolate Quinoa cake which I made for my daughter and son's combined birthday party, per their request!  I spread the peanut butter after creaming it a bit, on the bottom layer of the cake, then made the buttercream the same except substituted french vanilla for hazelnut again, and added 1/4 c of Suzanne's Ricemellow Creame, blend well and spread on top of peanut butter then also on top of the top layer of the cake.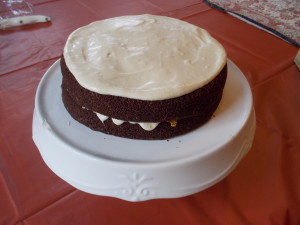 Chocolate Quinoa cake with Chocolate Ganache
2/3 c quinoa – uncooked
1 1/3 cups of water
1/3 cup of milk
4 large eggs
1 tsp. vanilla extract
3/4 C of melted butter, cooled
1 1/2 cups of sugar
1 c cocoa powder
1 1/2 tsp baking powder
1/2 tsp baking soda
First things first, cook your quinoa in the water.
Preheat your oven to 350.  After your quinoa is cooked and cooled. Blend the eggs, milk and vanilla to a blender (or food processor) and mix. This is a job that is definitely for a heavy duty blender, otherwise everything might not smooth out and you'll be left with crunchy cake.  Add the cooked quinoa and melted butter and mix some more.  Then, add all of the dry ingredients and mix even more. Make sure you mix it good enough that there aren't any whole quinoas left.
Pour the batter into a greased 9×13 cake pan (or I used a 9" spring form pan) and bake for 45 minutes.
See more at: http://www.loveandlaundry.com
Chocolate Ganache
Place one layer of the cooled cake on serving platter or cake stand.  Top with half of the buttercream and smooth out to the edges.   Top with the other cake layer and place in refrigerator for 30 minutes.  While it's chilling, make the ganache.  Mix chocolate chips and coffee creamer in small bowl.  Heat in a saucepan,  whisk until chocolate chips are completely melted and ganache is smooth.
Pour ganache over the top of the chilled cake.  With an offset spatula, immediately spread the ganache evenly on the top, then the sides of cake (ganache sets fairly quickly).  Place cake back in the refrigerator for another 30 minutes or overnight.  Get out to warm up a half an hour before serving.
To decorate I sifted gluten-free graham cracker crumbs on top and added mini chocolate chips around the edge. 
Enjoy!