So the big thing around Christmastime growing up, was to bake many batches of Christmas cookies.  Eating gluten-free has not detered me, I've just had to search more for recipes that work and are just as scrumptious!
One tried and true cookie is the Chocolate Chip Cookie.  There are many variations you can try but the one we like the best and have gotten high reviews for, is the one on the back of the Pamela's All-Purpose Gluten Free Flour bag.
Chocolate Chip Cookie Cups
2-1/4 cups Pamela's Flour Blend
3/4 tsp baking soda
1 tsp Kosher salt
2 sticks organic butter
3/4 cup organic raw sugar
3/4 cup organic brown sugar or coconut sugar
1 tsp vanilla
2 large eggs
2 cups semi-sweet choc chips
Pre heat oven to 350.  Beat butter, sugars, and vanilla in a large bowl until creamy, than beat in eggs.  Gradually beat in the dry ingredients.  Add the chocolate chips.
Now this is where I change it up a bit.  My experience with this recipe is that the cookies get really crispy and spread out.  So I use a small cookie scoop, about 1 Tbsp, and drop into small muffin tray, sprayed with olive or coconut oil spray.  Bake for about 12 – 15 minutes and remove after slightly cooled.  
Ginger Shortbread Cookies
taken from ElanasPantry.com
2 cups organic almond flour (I like to buy mine from nuts.com)
2 T arrowroot powder
1/4 t. celtic sea salt
1/4 t. baking soda
2 t ground ginger (more if you want them really gingery)
1 t. cinnamon
3 T Spectrum shortening or Earth Balance Organic Coconut Spread
2 T honey
1 T vanilla
1/4 cup coconut sugar for dipping
In a large bowl, combine almond flour, arrowroot, salt, baking soda, ginger and cinnamon. In a smaller bowl, combine shortening, honey and vanilla.  Stir wet ingredients into dry.  Scoop 1 tablespoon of dough and roll into a ball.  Briefly dip ball into a small bowl of water and roll the wet ball in coconut sugar to coat.  Place ball on baking sheet and flatten with the palm of your hand.  Bake at 350 for 7 – 8 minutes.   Makes 20 cookies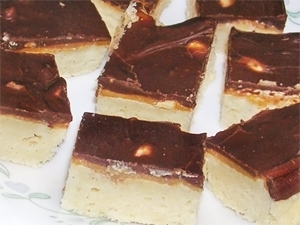 Gluten Free Peanut Butter Tandy Cakes
taken from Tropical Traditions free recipes
1 cup plus 2 T organic butter, softened
1 8-oz pkg organic cream cheese, softened
2-1/4 cup raw organic sugar
6 large eggs
1 cup coconut flour (from nuts.com or TropicalTraditions.com)
1 cup organic tapioca flour
pinch salt
1 cup organic peanut butter
10 ozs of chocolate chips
Preheat oven at 350.  Grease 10 x 15 x 1 jelly roll pan generously with coconut oil.  Cream butter and cream cheese together,  add sugar.  Beat eggs in one at a time.  Blend flours and salt.  Spread in prepared pan.  Bake cake for 20 minutes, make sure middle is set.  Immediately after removing cake from oven spoon the peanut butter over the top.  Let sit for a few minutes until melted and spread evenly over the cake.  Let cool.  Melt chocolate chips and spread evenly over the peanut butter.  Chill or let sit and harden overnight, then serve.