It's strawberry season again, and they are coming in full force!    I froze some for smoothies and sherbet, made strawberry-rhubarb jam and pie filling and found this wonderful recipe for muffins!
Servings: 6-12 muffins
Preparation Time: 10 minutes
Muffins:
Cream Cheese Topping:
1 cup homemade or store bought cream cheese, softened
1 cup chopped strawberries, fresh or frozen
1 – 3 tablespoons raw honey
For the muffins:
Preheat oven to 350 degrees F.
In a small bowl, combine coconut flour, salt and baking soda.
In a large bowl mix the eggs, honey, coconut oil and vanilla until well blended. Mix dry ingredients into the wet, blending with a hand mixer or by hand. Gently fold in strawberries.
Place batter in paper lined muffin tins OR oil small individual glass bowls and pour batter in about 1/2 – 3/4 full.
Bake in preheated oven for 20-25 minutes. Take them out and let them cool and serve topped with Strawberry Cream Cheese.
Cream Cheese:
Place everything in a blender or food processor and blend till smooth. Store in an airtight container in the fridge. When muffins are ready, generously top each muffin and enjoy!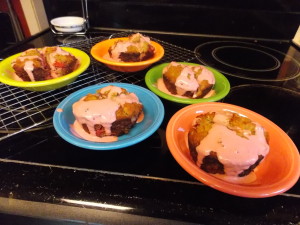 Recipe from www.tropicaltraditions.com