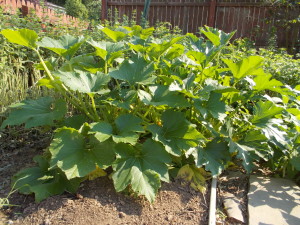 As you can see, our yellow squash plant is very happy among our mint tea.  It came up from last year and is producing merrily.  So I have been searching for recipes to make with my squash.  I mentioned before making ribbons with the squash by using a peeler and sauteing the ribbons, onions and garlic in coconut oil and seasoning with kelp, sea salt and all-purpose seasoning.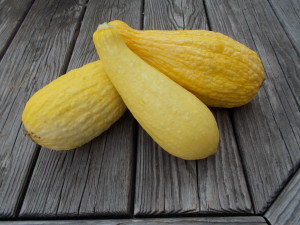 Another recipe I found from www.balancedplatter.com for stuffed zucchini bites.  I adjusted the recipe to use what I have in my kitchen.
Sausage & Quinoa Stuffed Yellow Squash –

2 medium-sized zucchini or yellow squash
1 tablespoon olive oil, plus a little extra, if need be
1 small onion, chopped
2 garlic cloves, minced
1/2 cup uncooked quinoa, rinsed
1 cup vegetable broth or water
2 teaspoons fresh thyme
1/4 teaspoon sea salt
1 cup fresh green beans
1 lb turkey sausage
1/4 cup fresh basil, thinly sliced or roughly chopped
Salt and Pepper, to taste

Preheat the oven to 375ºF. Lightly oil a large baking sheet.

Slice off the tops and bottoms of your zucchinis/squash, and then cut them into 1 to 1 1/2-inch thick segments. Stand each segment up on one of the cut sides, and use a melon baller (or spoon) to remove the center flesh. Be careful not to scoop all the way through the bottom and create a hole (if you do make a small one, it'll be fine). Arrange the hollowed-out zucchini pieces onto your prepared baking sheet so that they're ready to go. Set aside.

Heat up the olive oil in a small sauce pan, add in the onion and garlic, sauté for about 2 to 3 minutes, then add the quinoa. Stir it around and let the quinoa get coated in a little oil and let it toast up for a minute.  Add in your liquid (broth or water), thyme and sea salt. Bring to a boil, then cover, take the temperature down to low and let it simmer for 15 minutes.

While the quinoa is cooking, saute the turkey sausage.  After the quinoa is cooked, add it to a medium sized bowl. In the same pan you cooked the quinoa in, add a little more olive oil if need be and quickly sauté the green beans, just a couple of minutes until they are soft.

Add the sausage and green beans and the fresh basil to the quinoa. Stir everything together add salt and pepper, to taste.

Spoon the mixture into the prepared zucchini pieces, letting it mound up as much as you'd like.  Sprinkle Parmesan cheese on top. Bake for 25 to 30 minutes until the stuffing is lightly browned and the zucchini is slightly tender (you don't want them to get overcooked or they will be too mushy and be hard to eat).

I'm also including my recipe for homemade chicken broth which is what I used in this recipe.  It's always nice to have a couple quarts in the freezer for when you need some broth.

Chicken Broth

1 whole free-range chicken   1 lg onion, chopped

4 qts filtered water              2 carrots, chopped

2 T vinegar                            3 celery stalks, chopped

1 bunch of parsley

Place chicken or chicken pieces in large pot with vinegar, vegetables and water.  Let stand for 30 min.  Bring to boil and skim off the scum.  Reduce heat and simmer for 6 – 24 hours.  Add parsley for last 10 min of simmer.  Strain the stock and cool in fridge before freezing.