This week was a week of canning in my kitchen!  My parents picked peaches this week and dropped off a basket, my tomatoes produced at a tremendous rate, and my grape vine was ready to be picked.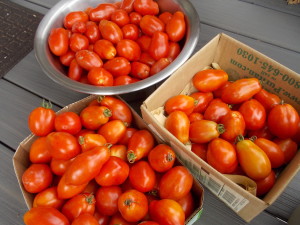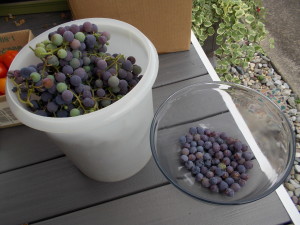 So I searched for recipes….my first job was to prepare the grapes and search out some more canning jars, of all sizes.  My family loves grape jelly so I used the jelly recipe in the Pomona  Pectin box because it doesn't use as much sugar as other pectin.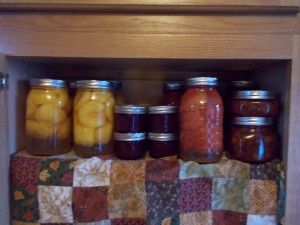 The other jars I have on the shelf  are whole tomatoes and Peach Salsa.  The whole tomatoes are so easy to can and then you have whole tomatoes ready for salsa, sauce, soup or chutney.  You basically drop them in a pot of boiling water for 2-3 minutes, cool in a bowl of ice water, then the skins slide right off.  When your jars are clean and sanitized you fill the jars with the tomatoes, add 2 T of lemon juice and fill the jar with boiling hot water from a hot kettle, leaving a 1/2 inch headspace.  Put the  lids on which have been softening in a small pot of boiling water, tighten the rings on and when you have seven jars filled, process in a canner or hot water bath for 45 minutes.  Remove and let cool.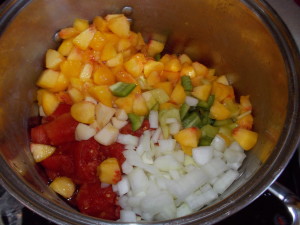 The Peach Salsa recipe I used from pickyourown.org  This recipe was a bit more involved but fun to do.  I used a lot of my own produce, all but the peaches and apples!
What a beautiful day for canning, I hope you can enjoy these recipes too.