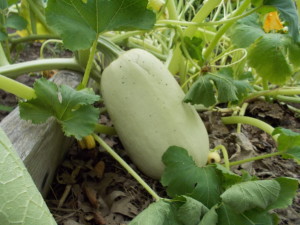 Spaghetti Squash!  We have pretty many growing in our garden this summer,  I can't wait for these to get yellow so I can pick them!   One recipe I've been using for awhile now is
Spaghetti Squash Bolognese
1 spaghetti squash             1 lb ground beef
1 onion, finely diced           4 slices of bacon
1 carrot, finely diced         ½ cup raw milk
1 stalk of celery                 small can tomato paste
1 clove of garlic                  ½ c white cooking wine
In a skillet with butter and coconut oil, sauté onion, carrots, celery, garlic until soft then add beef and bacon until browned.  Then add the milk, tomato paste and cooking wine and simmer of med-low heat for 20 minutes.  Serve over spaghetti squash.
Then there was another one I was looking at in my Kindle download Paleo Breakfast Recipes by Diana Hopkins.  It's called
Spaghetti Squash Casserole
1 large spaghetti squash         8 eggs
1 shredded sweet potato        2 T garlic powder
1 shredded red apple              1 T thyme
1 onion diced                          1 T oregano
Salt & pepper to taste        2 strips of turkey bacon cut up and sauteed
Preheat oven to 400F.  Saute onion in coconut oil then add sweet potato and apple.  Cover and steam slightly.  Whisk eggs together until blended, add cooked sp. squash, vegetables and herbs.  Pour into a 9×13 baking pan and bake for 20-25 minutes.  Serve.
To cook your spaghetti squash, heat oven to 425F.  Wash spaghetti squash, cut in half and remove seeds.  Lightly oil the squash with coconut oil and place cut side down in a 9×13 baking dish with about a 1/2″ of water on the bottom.  Bake uncovered for 25 – 30 min.  Remove from oven and let cool.  Then use a fork to pull out the squash and spoon into a bowl to use.
~~~
Some other veges in our garden that are waiting to be picked are the yellow Banana Peppers and the Yellow Squash.  Looks like Sauteed Squash Ribbons will be on the menu tonight!