Here are some coconut flour recipes that I have found that work well from Elana's Pantry http://www.elanaspantry.com/   and http://realsustenance.com with Brittany Angell.  I love learning and experimenting with different flours and recipes.   Coconut flour is very high in fiber and protein and is beneficial in maintaining blood glucose levels.  When you bake with coconut flour you need to add more eggs and a small amount of sweetener.  Enjoy these following recipes!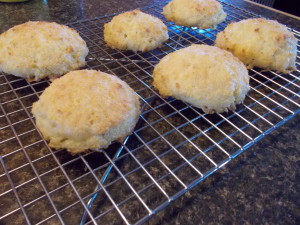 Coconut Flour Chedder Onion Biscuits
¼ cup coconut oil or butter, melted
1/3 c coconut flour
4 eggs
¼ t salt                       ¼ t baking powder
¼ t onion powder         ½ c chedder cheese, shredded
Blend together eggs, coconut oil, salt, and onion powder.  Combine flour with baking powder and whisk into batter until there are no lumps.  Fold in cheese.  Drop batter by the spoonful onto a greased cookie sheet.  Bake at 400 degrees for 15 min.
Makes 10 – 12 biscuits.
Blueberry Buckle
6 eggs                ½ c raw milk
¾ raw sugar        1 T vanilla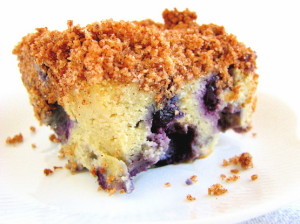 1 c coconut flour
1 t. aluminum free baking powder
¼ t. celtic sea salt
2 cups frozen blueberries
Preheat oven to 350F.  Beat eggs, add remaining ingred. until well combined.  Stir in blueberries.  Press into 8" cake pan.  Make streusel topping and sprinkle on top.  Bake for 50-55 minutes.
Struesel topping
¾ c unsweetened coconut flakes
1/3 c raw sugar
1 T cinnamon
3 T coconut flour
3 T coconut oil or melted butter
Pinch of salt
 Chocolate Strawberry Shortcake
Mix together and sprinkle on top of buckle.
Filling/Topping:
In a large bowl, combine almond flour, coconut flour, cocoa, salt and baking soda
In a smaller bowl, combine eggs and agave
Stir wet ingredients into dry
Batter will be wet, so using a 2 tablespoon scoop, scoop batter onto a parchment paperlined baking sheet
Bake at 350° for 12-15 minutes
Cool biscuits completely and set aside
In a large bowl, whip cream, agave and vanilla
Slice biscuits in half horizontally
Place bottom halves on a platter; top each one with a dollop of whipped cream and strawberries
Top with remaining biscuit halves, and more whipped cream and strawberries
Serve to your hungry gang