In compliance with the FTC guidelines, please assume the following about links and posts on this site:
Any/all of the links on BalancedAndHealthy.com are affiliate links of which I receive a small commission from sales of certain items, but the price is the same for you. As BalancedAndHealthy.com has grown, so have costs associated with running and maintaining  it, and affiliate links are a way I help offset these costs.
Janelle is a participant in the Amazon Services LLC Associates Program, an affiliate advertising program designed to provide a means for sites to earn advertising fees by advertising and linking to Amazon.com
If I post an affiliate link to a product, it is something that I personally use, support and would recommend without an affiliate link.
Unless otherwise noted, all reviews are of items I have purchased myself and I am not paid or compensated in any way. I want to make sure that all reviews are unbiased and of products I like and support enough to purchase myself.
My first priority is always providing resources to help you create positive changes in your life and I will only ever link to products or resources (affiliate or otherwise) that fit within this purpose.
Thanks so much for reading BalancedAndHealthy.com and if you decide to purchase something through any of my affiliate links, I really appreciate your support!
About Me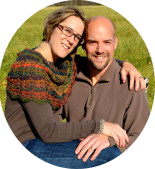 I'm Janelle, a homeschool mom living for Jesus in everything I do and learning how to have a balanced and healthy life. My husband John and I live in Pennsylvania. From cooking and baking gluten free to learning about the daily use of herbs and essential oils, I try to find a balance that works for our family. About five years ago we started to make changes in our diet because of many health issues and it has been a learning and exciting journey. Thanks for stopping by!
Recent Posts
Subscribe
Subscribe below to receive up-to-date emails if I post anything new! I promise I won't send you any spam (believe me, I dislike it just as much as you do)! Just fill in the boxes below and hit "Subscribe!" You'll receive a confirmation email shortly after.
Sign up for our mailing list.