So on our travels last week we headed down from Ohio to Jackson, Mississippi.  On the way we stopped in Nashville, Tennessee to visit the Belle Meade Plantation.  This is a beautiful plantation built in the early 1800's  and was well known for it's racing horse history.  John Harding, who founded and built this plantation built his business on breeding and training race horses which was quite evident throughout the house from all the portraits of horses on the walls.  For those of you who are movie buffs, Seabiscuit can trace his roots back to this plantation.       Notice how nice they kept their "garage" ! Then we went on down to see the Mississippi River in Memphis, Tennessee.  While there we were greeted by Elvis Presley! 🙂  Other attractions are the Monorail that takes you over to Mud Island, going to Beale Street Landing to ride the largest paddlewheel steamboat, American Queen, or just crossing the Hernando De SOTO bridge that takes you over to Arkansas.  The lower picture is of the Memphis/Arkansas bridge that also has a railroad crossing. After Memphis, we headed down to Jackson, Mississippi to the Belhaven University.  A beautiful southern style campus that is geared to the creative arts student....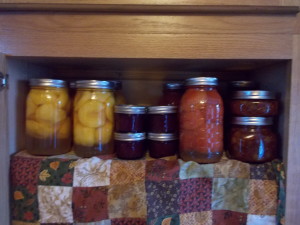 Are you hurried in the morning getting loved ones off to work and school?  Try making some oatmeal in the crock pot overnight!  When everyone comes down, they can scoop a bowl full of warm oatmeal, top with some healthy fats of coconut oil and grass fed butter, pour over some raw milk and you have a healthy, filling, tasty breakfast that will feed the whole family!  The recipe I used this morning was from www.eatathomecooks.com 1 – 3/4 cup gluten-free oats 1 qt. jar of homemade canned peaches enough milk to bring the liquid to 5 cups dash of celtic sea salt Spray inside of crock pot with coconut spray.  Put oats in crock.  Drain peaches, reserving juice.  Slice peaches into bite-size pieces and add to crock.  Add milk to peach juice to make 5 cups, pour into crock.  Add a dash of sea salt and stir to combine.  Cook for up to 7 – 8 hours, ready in 3-4 hours.  Serve with coconut oil, butter and milk. I used Trader Joe's Gluten Free Oats and Trickling Springs Organic Salted Butter made with milk from grass-fed cows that are given no synthetic hormones or antibiotics. ~  "a nutritional powerhouse of vitamins A, D, & K-2, heart-disease preventing CLA (conjugated linoleic acid), and so much...
Well, we are fighting colds here at our home, so I am making Beef & Cabbage soup for supper.  I use my homemade beef stock, 16 – 24 cubes,  add ground beef, about 10 garlic bulbs (crushed), half a head of cabbage, 4 carrots cut up and 2 cups of water, season with celtic sea salt and your Kelp Sea Seasonings and simmer all afternoon!   The beef stock has wonderful healing properties as I've stated before in my beef broth post. ..Beef & Broccoli Soup Garlic is touted to possess several antiviral, antibacterial and antifungal properties, which can be beneficial in preventing and treating colds. And Cabbage…The health benefits found in cabbage work to enhance the body's ability to ward off sickness and prevent disease. Because of its nutrient content, cabbage has anti-inflammatory and anti-bacterial properties. The anti-inflammatory properties help in the treatment of digestive problems, such as gastritis, heartburn and peptic ulcers. Cabbage's anti-bacterial properties work inside the body's cell processes and aid in detoxifying the body's major systems. These same properties help to boost the immune system, which increases the body's resistance to invading bacteria and viruses. I also made some Flu Busting Gummy Bears from http://wellnessmama.com/4599/flu-busting-gummy-bears/. Flu busting homemade gummy bears combine the immune boost from elderberry syrup with the gut benefits of gelatin. Author: Wellness Mama Recipe type: Natural Remedy Print Prep time 10 mins Total time 10 mins Flu busting homemade gummy bears combine the immune boost from elderberry syrup with the gut benefits of gelatin. Author: Wellness Mama Recipe type: Natural Remedy Serves: 6+ Ingredients 1 cup elderberry syrup (here is the recipe)...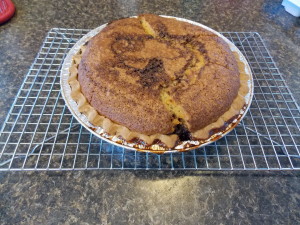 I have made Funny Cakes for years!  I've made the crusts and they always turned out beautiful, like funny cakes can.  When we went gluten-free, I didn't make them for awhile.  How do you mess with such a good thing, right?  After many tries with a gluten-free crust, I decided to go with a frozen pre-made crust.  Wholly Wholesome makes a really good pie crust that I like to use for pies.  I find them at Giant and Hennings.  Get the frozen crust out of the freezer 10 minutes before you are ready to use.   When it is thawed, you can pinch the edge gently to make a nice edge. Funny Cake – Gluten Free Syrup – mix together and set aside (whisk well) 1/2 c raw sugar 1/4 c organic baking cocoa 1/2 c hot water 1/2 t. vanilla Cake mixture 1 c raw sugar 1/4 c extra light olive oil 1 egg Cream together then add 1/2 c milk ( I use raw) 1/2 t vanilla Sift together and add 1 c Pamela's all purpose gluten-free flour blend 1/2 t salt 1 t. aluminum free baking powder Whisk until combined, do not over mix, this will cause it to sink in the middle! Pour creamed mixture into unbaked 9″ pie crust and pour syrup over top.  Bake at 375 degrees for 50 minutes.  Enjoy! ...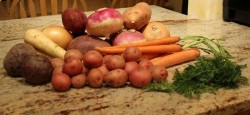 I love to have some easy one-dish meals ready to make for supper.  This one is so savory and smells wonderful as it simmers on the stove.  Beef Cubes with Root Vegetables 1 lb grass-fed beef cubes, locally preferred 1 turnip 2 – 3 carrots 2 large red potatoes 3 cloves of garlic 2 t. Kelp seasoning 1 T Frontier Organic Onion & Herb seasoning Salt to taste 1/4 c grass fed butter 1/4 cup coconut oil 2 handfuls of swiss chard and/or kale Brown beef cubes in butter and coconut oil.  Season with the Kelp, onion, and salt.  Peel and cut up the turnip and carrots.  Cut up the potatoes with the skins on and smash the cloves of garlic.  Add the vegetables to the pan with the beef.  Toss.  Add 4 cups homemade beef broth ( I use my previously frozen beef broth cubes in my quart freezer bag.)  Cook on med/high till vegetables are soft then let simmer until ready to serve. Ten minutes before serving.  toss in the swiss chard/kale and season with salt.  Let it cook down and then serve in large soup bowl with some gluten-free rolls.  Enjoy! ...

So the big thing around Christmastime growing up, was to bake many batches of Christmas cookies.  Eating gluten-free has not detered me, I've just had to search more for recipes that work and are just as scrumptious! One tried and true cookie is the Chocolate Chip Cookie.  There are many variations you can try but the one we like the best and have gotten high reviews for, is the one on the back of the Pamela's All-Purpose Gluten Free Flour bag. Chocolate Chip Cookie Cups 2-1/4 cups Pamela's Flour Blend 3/4 tsp baking soda 1 tsp Kosher salt 2 sticks organic butter 3/4 cup organic raw sugar 3/4 cup organic brown sugar or coconut sugar 1 tsp vanilla 2 large eggs 2 cups semi-sweet choc chips Pre heat oven to 350.  Beat butter, sugars, and vanilla in a large bowl until creamy, than beat in eggs.  Gradually beat in the dry ingredients.  Add the chocolate chips. Now this is where I change it up a bit.  My experience with this recipe is that the cookies get really crispy and spread out.  So I use a small cookie scoop, about 1 Tbsp, and drop into small muffin tray, sprayed with olive or coconut oil spray.  Bake for about 12 – 15 minutes and remove after slightly cooled.   Ginger Shortbread Cookies taken from ElanasPantry.com 2 cups organic almond flour (I like to buy mine from nuts.com) 2 T arrowroot powder 1/4 t. celtic sea salt 1/4 t. baking soda 2 t ground ginger (more if you want them really gingery) 1 t. cinnamon 3 T Spectrum shortening or...
Chicken soup is often thought of as a "go to" if you feel a cold coming on but this Beef and Broccoli soup also has all the nutrients and very flavorful!  I start it out like my Broccoli Cheese soup Broccoli Cheese Soup 1 med onion                  3 carrots 2 cloves garlic              1 t. celtic sea salt 4 ½ c chicken stock      3 T butter & 3 T coconut oil 1 ½ lbs broccoli          1 – 1/2 cup milk or heavy cream 3 T tapioca starch       3 c cheddar cheese season with salt and pepper Saute onion and garlic in butter and coconut oil.  Bring to boil with stock and cook broccoli and simmer for 15-20 minutes  Puree until smooth.  Whisk cream and tapioca starch together and add to the soup.  Simmer until heated through serve. Beef & Broccoli Soup in addition to the above recipe… 1 turnip (peeled and cubed)              1 lb ground beef 2 – 1/2  cups beef stock                        garlic salt, onion salt & kelp seasonings For the Beef and Broccoli soup, I saute the vegetables in the butter and then add 2 cups homemade chicken stock and 2 1/2 cups of homemade beef stock.   Meanwhile, saute 1 lb ground beef in butter and coconut oil, season with garlic salt, onion salt and the kelp seasonings if you have.  Add the broccoli and turnips to the stock and cook for 15 – 20 minutes.  Add the ground beef and 2 1/2 cups water.  Thicken with 3T tapioca starch in 1/2 c  hot water.   Season with salt and pepper as needed. Katie at wellnessmama.com says this...
Many of you have asked where my recipe is on my website…it's kind of hiding in the post with the Pulled Pork, so I have made it's own separate post along with some updated pictures.  The first Chocolate Quinoa cake I made was for my sister-in-law's birthday, it was made with Hazelnut Buttercream        Hazelnut Buttercream 3/4 cup melted butter 1 – 1/2 c organic powdered sugar, sifted 1/2 T warm water 2 T  So Delicious Dairy Free coconut milk hazelnut coffee creamer 1/2 t vanilla To make buttercream, beat the butter bowl of standing mixer.    Add the water, sifted powdered sugar, coffee creamer and vanilla.  Beat for an additional 2 minutes. Beat the buttercream until light and fluffy. Peanut Butter Buttercream The next cake, for my brother-in-law's birthday, was with a Peanut Butter filling.  I used french vanilla coconut milk creamer instead of the hazelnut and added 1/4 c creamy peanut butter to the filling and blended well.  Then for my daughter and her friend's combined birthday I made another quinoa cake with the hazelnut filling because it is so good! Peanut Butter/Marshmallow Buttercream The most recent cake was a Peanut Butter Marshmallow Chocolate Quinoa cake which I made for my daughter and son's combined birthday party, per their request!  I spread the peanut butter after creaming it a bit, on the bottom layer of the cake, then made the buttercream the same except substituted french vanilla for hazelnut again, and added 1/4 c of Suzanne's Ricemellow Creame, blend well and spread on top of peanut butter then also on top of the top layer of...
This is what I'm making for Sunday's meal.  There is some day before prep so here it is.    Enjoy! Autumn Sausage Casserole 1 pound turkey sausage, cooked                                      1 large, or 2 small apples, chopped (no need to peel) 1 yellow onion, chopped 1/2 cup chopped carrots 3 cups already cooked basmati rice 1/2 cup raisins 1 T dried parsley flakes 1 T brown sugar 1/2 tsp allspice 1/2 tsp cinnamon 1/4 tsp black pepper 1/3 cup chicken broth Directions Put all the ingredients into the crock, and stir well.  Cover and cook on Low for 5-7 hours, or on High for 3-4. You're really only heating through, and allowing the vegetables to soften. (Taken from www.crockpot365.blogspot.com) This is a great recipe for Sunday, you can prepare everything on Saturday and put it in the crock pot before you leave for church, when you get home you have a great smelling and tasting meal waiting for you!...
Coq au Vin 6 to 8 frozen chicken thighs 6 slices cooked Turkey bacon 1 cup carrots, cut in pennies 1 chopped yellow onion 3 cloves chopped or minced garlic 1/2 t black pepper 1/2 t kosher salt 1/2 cup chicken broth 1 1/2 cup red cooking wine 2 large fresh thyme sprigs Directions Cook your bacon. Place the frozen chicken into your crockpot and start layering in the rest of the ingredients. Cover and cook on low for 8 hours. You could cook it on high for 4, but it won't taste as good. The flavors meld so nicely when cooked low and slow. Pecan topped Baked Sweet Potatoes – crock pot 4 peeled, sliced sweet potatoes 1 can whole-berry cranberry sauce 1 c evaporated milk               4 T butter ¾ c brown sugar                    1 c chopped pecans 1 t vanilla                              2 c gluten-free pretzels Peel and slick the sweet potatoes and stagger-stack in crock pot.  Cover with the br. sugar & cranberry jelly.  Mix the vanilla and milk and pour over top, dot the butter on top and sprinkle the pecans and pretzels over the top.  Cover and cook on Low for 5 – 6 hours or 3 -4 on High, uncover an let sit for 15 min before serving. (Taken from crockpot365.blogspot.com) Tomorrow ~ Autumn Sausage & Rice...
Sausage & Broccoli Soup 2 T olive oil                      1 t. oregano ½ onion                             1 t. basil 1 clove garlic                    1 t. salt 1 t. Sea Vege Seasoning 1 lb sliced sausage            1 ½ c broccoli florets                    4 cups beef broth            1 ½ c kidney beans 1 ½ c diced red potato     28 oz diced tomatoes Saute onions and garlic in oil.  Add sliced sausages and cook for 5 min.  Add to crock pot and add broth, vegetables, beans and seasonings.  Cook on low for 4 hours. I use Bolton's Turkey Sausage or Kielbasi and my own beef broth, here is the recipe for beef broth,  which of course you want to do ahead of time.  The Sea Veges I get from Amazon.  Why, you ask?  "Kelp granules are an especially rich source of potassium, iron, iodine, Vitamin B-6, Riboflavin, and dietary fiber. Kelp also contains a natural substance, glutamic acid, that enhances flavor and tenderizes.  Sprinkle on soups, salads, tofu, pasta, stir-fries, dressings, dips, sauces, breads, tabouli. Get the nutritional benefits of sea veggies, and skip the table salt." (taken from www.seaveg.com) Beef Broth 4 lbs beef marrow bones      3 celery stalks, chopped 4 qts filtered water             1 bunch parsley ½ c vinegar                           3 carrots, chopped 3 onions, chopped Roast or brown the beef bones then add to a large stock pot with vegetables and vinegar and water.  Bring to boil and skim off scum.  Reduce heat and simmer for 12 – 24 hours.  Add the parsley for last 10 min of simmer. Strain and cool in fridge before freezing. I put my broth in...
About Me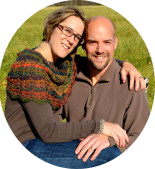 I'm Janelle, a homeschool mom living for Jesus in everything I do and learning how to have a balanced and healthy life. My husband John and I live in Pennsylvania. From cooking and baking gluten free to learning about the daily use of herbs and essential oils, I try to find a balance that works for our family. About five years ago we started to make changes in our diet because of many health issues and it has been a learning and exciting journey. Thanks for stopping by!
Recent Posts
Subscribe
Subscribe below to receive up-to-date emails if I post anything new! I promise I won't send you any spam (believe me, I dislike it just as much as you do)! Just fill in the boxes below and hit "Subscribe!" You'll receive a confirmation email shortly after.
Sign up for our mailing list.